Send Inquiry
Solar Energy Panels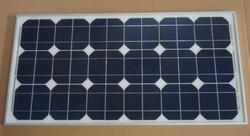 Product Details:
Supply Ability :

1000 Piece Per Week
Trade Information
1000 Piece Per Week

5 Days
Product Description
What is a Solar Panel?
Solar panels are also known as PV (photovoltaic) panels, and they convert sunlight into electrical energy. They are used for a range of applications, including telecommunications equipment, remote power systems, production of electricity for residential and commercial areas. A solar power system is designed to provide useful power through photovoltaic. Basically, solar panel is an accumulation of solar cells.
How Do Solar Panels Work?
Solar panels collect sunlight, which is clean renewable energy, and convert it into electricity. Produced electricity is utilized to supply power for electrical loads. Solar panels consist various individual solar cells, and the cells are composed of silicon, phosphorous and boron layers. Photons are absorbed by solar panels, initiating an electric current. And the resultant energy from photons help create Photovoltaic Effect. In a perfect grid-connected configuration, a solar arrangement creates power during day that is then used at night.
Benefits of Solar Panels
Solar panel is a practical way to make electricity. It is great for many applications. Remote cabins and homes are greatly power-assisted by the solar power systems. Some key benefits comprise:
A solar electric system is economical and provide power for years.
A clean as well as renewable energy source.
No moving parts, and thus involve little maintenance.
Ruggedly built, ease of installation and potentially reducing monthly electric bills.
Solar power is versatile and convenient.

A Brief History of Solar Panels
The photovoltaic effect was discovered by Edmond Becquerel. In the early times, solar energy was primarily used for the production of steam. With discovery of "photovoltaic effect" by Edmond Becquerel, conversion of sunlight into solar electric energy started out. Nowadays, both solar panels and solar panel systems are used to power numerous applications. They have been used to provide power to homes as well as commercial buildings. The panels absorb the sunlight to generate electricity, or heat.
Applications
There are many applications for solar panels or photovoltaics. They can be used in agriculture, health care, rural development and infrastructure. PV modules include a variety of electric devices. Some common applications of the solar panels are:
Solar Water Heating Systems
Rural Electrification
Solar PV Application for Power Generation
Solar Water Pumping
Commercial Power Projects
Commercial Lighting & Street Lighting
PRASHANT PLASTIC INDUSTRIES LLP
Other Products in 'Solar Panel' category